U-Pick Availability – Blueberries, Apples, & Pears
U-Pick Availability
Our U-Pick apples are open for the 2023 season! We also offer prepicked in the store. Please call the store for the most up to date ripeness.
Make sure to grab a cider donut and mulled cider while in the store!
Hours:
Sun, Mon, Wed, Thurs 8am-6pm
Fri & Sat 8am-7pm
Closed Tuesdays
Please keep in mind that it is hot out there – dress appropriately & make sure to hydrate.
High bush Blueberries ($4.50/lb): Mid July – mid August
Apples ($2.49/lb): Late August – November
European Pears ($3.30/lb): Mid September – October
Asian Pears ($3.30/lb): September**Unavailable 2023 season
We are open for u-pick during all business hours, ripening is weather-dependent so the timeframes above are approximations. Please follow us on social media or give us a call for the most up-to-date u-pick availability!
CLICK HERE for our Orchard Map
Dogs are not permitted on property April 1st-November 31st.
December 1st- March 31st: Leashed dogs are allowed on trails only. We do not permit dogs in the orchards or at events.
**Please be respectful; pick up after your dog and be courteous of others on trails. Should anything happen while out walking we are not liable for any incidents that may occur (we do have several porcupines that are frequently spotted).**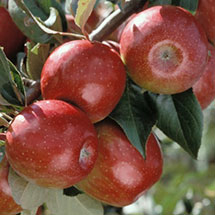 Apples
We offer a pleasing spectrum of modern and antique apple varieties with varieties perfect for fresh eating, baking, sauce, juice, and storing.
Additionally, we manage our apple trees for U-Pickers! All our trees bear fruit at a reasonable height so that even a toddler can pick.
Visit our Apples page for a complete list of varieties and their attributes.
There are lots of pests in New England that LOVE fruit, especially apples. We use IPM (integrated pest management), try to be a low-spray as possible, and use as many organic products as we can because we want to make sure our fruit is safe to eat right away! Because we try to be as low-intervention as possible this may mean that your apple isn't 'perfect' to look at, but we promise it is just as tasty!
U-Pick Highbush Blueberries
Our U-Pick highbush blueberries, in approximate order of ripening:
Duke
Patriot
Draper
Toro
Bluecrop
Friendship
Bonus
Nelson
Liberty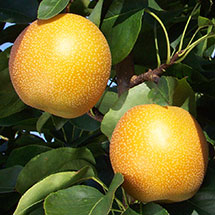 Asian Pears
Asian Pears are ready in September and ready to eat at harvest- start enjoying them right away! Short term storage is possible in your refrigerator's crisper drawer.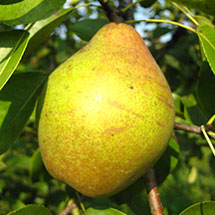 European Pears
Blake's Pride
Harrow Sweet
Magness
European pears are best enjoyed when ripened by a few simple but important steps. They do not ripen well on the tree so please be ready to 'prepare' your pears!
After picking keep your pears at 60-65ºF for 1-3 weeks. Ripeness is indicated by light thumb pressure at the neck readily making an indent. To speed up the ripening process try placing a banana alongside ripening pears. The ethylene gas emitted by the banana will speed up process.
To store them keep your pears chilled down as close to 30ºF as possible and kept that way until ripening is desired. At that point, follow the ripening procedure outlined above. European pears that have been properly stored for a long time will likely ripen faster (four-seven days) than those that have been stored only a short while or not at all.
A properly ripened European pear is worth it! Enjoy!