*New addition to the store*
Grab & Go meals!
Our grab & go cooler will be stocked with weekly rotating meals from our Chef. Meals may include, but not guaranteed: fresh salads, soups, lasagna, mac & cheese, pot pies, and more! Follow us on social for the most up to date information or give the store a call.
The Orchard Ridge Farm Store & Kitchen is open year round offering an our own farm fresh eggs and an array of local meats, cheeses, produce, honey, maple products, baked goods, jams, ferments, snacks, and more!
Our kitchen offers an array of items made to order & a grab 'n go selection that rotates weekly. Please visit http://www.toasttab.com/orchardridgefarm to order hot food and drinks. We bake bagels, cookies, and donuts daily as well as offer an extensive coffee menu. We do have one table for dine in, but the remainder of our seating is outdoors overlooking the orchard both covered and uncovered. On premise beer & wine enjoyment is also allowed so you can relax and unwind with us. We do have a play set for children to enjoy as well as goats to visit while you wait. Make a day of it and walk our trails or upick during the season. Our farm is licensed to serve beer & wine, so you can enjoy an adult beverage while visiting us.  Feel free to give us a call if you have any questions.
Local Meats
Pine Tree Poultry chicken and turkey! Whole birds, boneless breasts, boneless thighs, sausage, and ground turkey. Pot pies, empanadas, and more from their kitchen to yours for a delicious, easy answer to the 'what's for dinner?' dilemma. Other options available on request.
Beef! We work with several local beef producers such as Wormell Farms and Bisson Bros to bring you premium cuts of steak and ground beef. These farms have been family owned and operated for generations and strive to bring a superior, affordable product to the community.
Quality, local pork! Cured and smoked, sliced and nitrate free nitrate free bacon and an array of sausages.
Pasture raised lamb! Chops, leg and shoulder.
Locally raised duck! Whole duck and breast portions.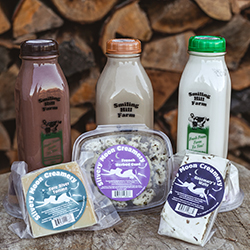 Local Dairy
Our region is host to many producers of artisan local dairy products. We stock a range of cow's and goat's milk cheeses and goat's milk fudge. We have butter and we tastefully carry Smiling Hill Farm milk and cheeses from their creamery – Silvery Moon Creamery.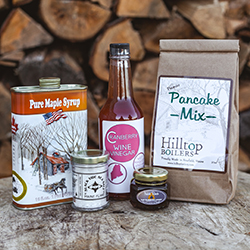 From the Kitchen – Local Foods
Local foods to delight your palate. Choose from the best local jams, pickles, sauces, salsas, sauerkrauts, mustards, pasta sauces, whole bean and ground coffees, crackers, butter, Dilly beans, pickled asparagus, seasonings, hot sauces, dip and soup mixes and more. From Maine and beyond we bring in good foods to fill our market with tastiness. Come and see for yourself.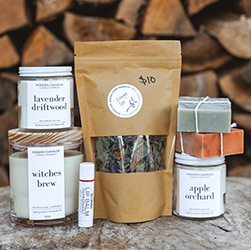 Crafts
The best from local artisans. Our selection varies by season and may include soaps, lotions and creams; pottery; wood crafts; woven baskets in many sizes and more.
Local Fruit & Produce
In season; we offer our own blueberries, apples, and pears in the farm market. We also purchase other fruits from area farms including strawberries, peaches, and more! We sell seasonal organic veggies from Bumbleroot Organic Farm in Windham, Maine. In the fall, we have pumpkins, mums, corn stalks, squashes, and other delights.
Beer, Cider, & Wine
We offer a diverse selection of craft beers & ciders and a select variety of wines from around the world.